Pop's latest wild child Ke$ha stormed away with the number one spot in Last.fm's Best of 2010 yesterday, but just how well did she really do?
The Last.fm Trends team find out what put her on top.
Once the Last.fm team started looking at the numbers, it was clear Ke$ha was going to walk away with the chart. The listening trends stream graph (previewed below) shows Ke$ha stayed in the most-played albums from release in January, squeezed by big records through the summer, but never beaten.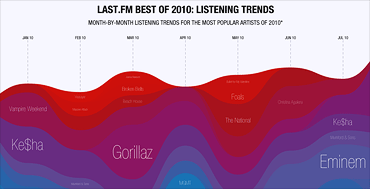 Click the image above for a larger version.
Her hits "TiK ToK," "Your Love Is My Drug" and "Take It Off" were consistently popular too, with the former never seriously challenged for the top spot of her charts. Week after week it's taken thousands of scrobbles from listeners, with more than 20,000 playing it every single week at Last.fm.
Numbers like that prove that she is more than just a guilty pleasure. The Best of 2010 team took a look at deleted tracks, just to make sure that no-one seemed hated enough to lose them a place in the chart. Ke$ha seemed a prime candidate for that, the kind of artist people might be curious about playing (and scrobbling as a result) but also someone no-one wanted to be seen to be playing.
But no; while Ke$ha was the most deleted artist of the year, it accounted for just 19,546 scrobbles, about 0.125% of her total scrobbles.
That staggering popularity could see her into the new year too, and if she drops new material early enough in 2011 she could give Lady Gaga a run for her money.
Click here to discover more about the Last.fm Best of 2010.
Comments