Richly swathed in the metaphorical echoes of Gothic Victorian ghost stories, rolling hills of sonic lavender, decrepit organs moaning through cob-webbed church steeples, ghost ships full of loved ones perishing in waves of musical emotion, female Biblical archetypes, Greek mythology, and the devil in a wholly unholy female form, [lastfm link_type="artist_info"]Florence + The Machine[/lastfm]'s Ceremonials is opulent with fantastical imagery and lavish cathedrals of orchestration.
All the literary allusions, raw emotions, feminine inner-conflicts, and maniacal empowerment combined with the constant instrumental theatrics can be disheartening (and overwhelming) for those looking for immediate gratification.
Because despite the grandiose nature of every song, Ceremonials is a slow-burner that devilishly attacks the eardrum in a constant swell of sound before Welch's over-arching theme becomes clear; Welch, or her musical character, is what society would deem a "sinful" woman, tortured by the ghosts of past indiscretions, finding lyrical comfort in the spiritual plights of heroines in order to keep her "history" from "pulling her down."
Read a review and listen to an exclusive full album stream courtesy of our friends at Myspace!
Ceremonials starts sweetly with "Only If For A Night," lush layers of keyboard and xylophone mimicking the rush of mid-day church bells and Florence Welch giggling girlishly.
In the theatrical storytelling style of [lastfm link_type="artist_info"]Kate Bush[/lastfm], Welch recalls a dream "about her old school" and a phantasmagorical girl "all pink and gold and glittering."
The sugary-sweet introduction to a seemingly young girl who has her own "secret ceremonials" by cartwheeling through graveyards before a funeral is a perfect introduction to Welch as a persona–a charismatic young women teetering wildly between those dark and light spaces of the soul.
Midway into the song, a tumbling piano breakdown emphasizes both her internal turmoil and her childish spirit before a "practical," and perhaps, adultlike ghost urges her to "concentrate/It was all so strange and so surreal that a ghost would be so practical/only if for a night."
Many will find the next song on the album, "Shake It Out," to be Ceremonials' version of "Dog Days Are Over," with its inspirational tone that has Welch observing, "it's always darkest before the dawn "and that she will "cut out her heart and restart" and "bury that horse in the ground." Presumably the dead one that she can't stop kicking.
In the midst of the massive orchestrals and crushing choruses certain to make any ballad-busting diva shine, Welch shows that not everything is as it seems: "All of the ghouls come out to play/and every demon wants his pound of flesh/but I like to keep some things to myself." And it's exactly those things that she "keeps to herself," those secrets that she just can't "shake out," as evidenced by the rest of the album.
A string instrument vibrates anxiously, echoing through a wet sea cave of sound, both industrial and sonically vulnerable; Welch breaks into her first single from the album, "What The Water Gave Me."
In the back, a harp breaks hopefully through the dark, but it is merely a panacea for the melancholic tone of the song. It's as if she's musically finishing Mary Wollstonecraft's unfinished "The Cave of Fancy," a story of a young girl losing her mother to a shipwreck.
There are allusions to losing loved ones to the "cruel mistress" that is the sea, the burden of Atlas, the longing incurred by a loved one taken by the sea, and a suicide accomplished by the same cruel mistress" and "pockets full of stones."
"Never Let Me Go" is a portamento from the previous song, an expansive washed-out tome to a kind of suicidal baptism, a killing a part of herself in the "arms" of the ocean: "It's peaceful in the deep/feed you where you can not breathe/no need to pray, no need to say 'now I am under'/and it's breaking over me/a thousand miles onto the sea bed/I found the place to rest my head."
The listener is given private entrance into some of Welch's guilt before she starts  "Breaking Down," an almost Britpop sounding song that shimmies with a slide of steel guitar and the tremble of an old piano, a deeper-voiced Welch, and earnest strings.
In an interview with the Los Angeles Times, Welch described the overall tone of "Breaking Down."
"These images of fear that you have as a child, something in the room, something for a child to fear, and then as an adult, that being there too as a creeping depression. It's something quite sinister, but also something quite familiar."
Her voice strangely has a Jarvis Cocker quality with the tune having a similar structure to a [lastfm link_type="artist_info"]Pulp [/lastfm]song from This is Hardcore.
With lyrics like "all alone/on the edge of sleep/my old familiar friend/Comes and lies down next to me/And I can see it coming from the edge of the room/Smiling in the streetlight/Even with my eyes shut tight/I still see it coming now," the song is incredibly creepy and laden with sexual intensity.
This sexual energy transfers over to the gospel-tinged "Lover to Lover." While the song sounds soulful and redemptive with upbeat handclaps and beastly percussion, Welch's lusty wail turns the female sexual repression so rampant in Gothic Victorian stories on its head. Welch sings that there's no redemption for her because she is "going from row to row/bed to bed/lover to lover/black to red/but I believe/I believe/there's no salvation for me now/no space among the clouds/and I've seen that I'm heading down/But that's alright."
[pullquote quote="These images of fear that you have as a child, something in the room, something for a child to fear, and then as an adult, that being there too as a creeping depression. It's something quite sinister, but also something quite familiar." credit="Florence Welch"]Perhaps it's these indiscretions that Welch is singing about in  "No Light, No Light." 
A dazzingly emotive song that creeps through your psyche and down your cheeks–even from the beginning with its slow, icy start and Welch's sad whisper. A harp and tumultuous drums portend a deep sadness that only a sinful, perhaps adulterous, woman can fully understand.
When Welch sings "it's so easy to say it to a crowd/but it's so hard to say it to you now,"  the instruments cut out and she is left in her own space, a prolonged note and menacing silence.
Tying into that image of a sexualized woman, Welch's "Seven Devils" is rife with biblical symbolism, a song that could be making allusions to the "seven" devils that surrounded Mary Magdalene, the seven days of creation, the seven deadly sins, and the seven seas–on which the sailors in her past songs might have perished.
Spooky minor crowds like the beginning of a horror film, the screams of violins, the maddening plunk of low-toned piano key start the song before Welch sings "seven devils all around you…I'll be dead before the day is done."  In it,  seven is the number of completion with Welch being "dead" before the day is "done."
"Heartlines" starts with pounding drums reminiscent of [lastfm link_type="artist_info"]Siouxsie Sioux[/lastfm]'s more world-music band, the[lastfm link_type="artist_info"] Creatures[/lastfm].
A fully mystical endeavour, Welch sings about the river of her heartlines,  those that tell the future of your lovelife in a  palm reading and likens those heartlines to the truly epic tale of Homer's Odysseus: "On the sea, Odyssey, and land over land, creeping and crawling like the sea over sand/still I follow the heartlines on your hand."
Her most remixable song, "Spectrum" starts slowly with the ghostly paper-thin whisper of Welch's voice punctuating her tremble, but the song picks up into a percussion-happy dance-jam. A maddening, ecstatic orgy of instruments perfectly compliments her exclamations of "we are shining" and " we'll never be afraid again" before the song ends with the cleansing flurry of harps.
This melds into the lush angelic choir of "All This And Heaven Too," one of her less dynamic songs of the album, although perhaps one her most accessible wherein she mourns not being to understand or properly use words, presumably mostly in the scope of love.
"And I would give all this and heaven too/I would give it all if only for a moment,/That I could just understand the meaning of the word you see/'Cause I've been scrawling it forever/But it never makes sense to me at all."
The second to last song, "Leave My Body" (before a remix of "What The Water Gave Me") goes back squarely to what we know so well from Welch on her debut album, Lungs: operatic gospel-pop. However, Welch doesn't want to be held down by her future or her past, "one bright moment" is all she asks.
We would argue that with Ceremonials, Welch has given us twelve bright moments, all shining through their shadowy sonic veils of unfettered human emotion.
---
Ceremonials-[lastfm link_type="artist_info"]Florence + The Machine[/lastfm]
Amazon + iTunes + Twitter + Facebook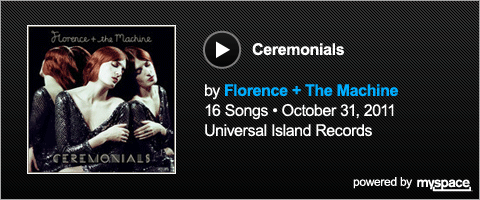 ---
Tracklisting:
1. Only If For A Night
2.  Shake It Out
3. What The Water Gave Me
4. Never Let Me Go
5. Breaking Down
6. Lover to Lover
7. No Light, No Light
8. Seven Devils
9. Heartlines
10. Spectrum
11. All This and Heaven Too
12. Leave My Body
13. What The Water Gave Me (Remix)
Comments